The latest news and updates from the Northshore School District
Hello Team Northshore,
What a great spring week!! It is hard to believe that it is already the last week of April. It finally feels like spring with the energy and enthusiasm that longer days and lighter weather prompt, and our opportunities to be outdoors bring. May is upon us next week with the wonder of an evolving spring and the certainty of our seasons to support and sustain us through these challenging days.

I was so inspired by our 22 student poets during tonight's Northshore Speaks event! Each student shared such a powerful message. The arts are an important aspect of learning and this event ties directly to our commitment of providing multiple avenues for student voice and hearing multiple perspectives – I look forward to it each year! This year we were fortunate to have Emmy-nominated poet Christian Paige join us for both student coaching and to share an original piece during the event. Northshore Family Partnership teacher, Leslie Connor also coached our poets. Ms. Connor and Mr. Paige joined me this morning on Northshore Learns News, along with two of our student performers to share about how they prepared for the event. If you weren't able to tune in at 6 p.m., I encourage you to watch the video on our Northshore Speaks webpage at any time.
Other topics covered include Congratulations Azeem Egizi, Earth Day Performances, Alumni News and more. To read Dr. Reid's full Thursday Thoughts, click the link below.
District News and Updates
Teacher Appreciation Week
It is well known that teachers change the lives of millions of children every day but during this last year, teachers have taken on the challenge of teaching students virtually, in-person or a mix of both. We cannot thank our hardworking Northshore teachers enough for all their time and dedication this last year supporting our students and Northshore families.
Take a moment to say thank you to our teachers and school staff who make education in Northshore possible by clicking the button below.
Did you know that Friday, May 7 is School Lunch Hero Day? Be sure to take a moment to share a thank you by clicking the button below.
Here are some fun facts about what our amazing Lunch Heroes have done this past year:
As essential workers, Northshore kitchen staff have been working five days a week onsite since March 2020 - even through the summer months.

Served more than 1.5 million FREE meals while students attended remote schooling.

Provided free meals 391 out of the previous 414 days.

Provided nearly 300,000 meals to family homes that did not have transportation to community pickup locations.

Worked in various capacities in the District including library book distribution, family outreach, translation services, supporting families signing up for free internet services, and sorting curriculum materials.
Washington Network for Innovative Careers (WANIC) Summer 2021
WANIC Skill Center offers high quality tuition-free technical and professional training for high school juniors and seniors. These advanced-level Career and Technical Education (CTE) programs are based on rigorous academic and industry standards and prepare students for career and college readiness. WANIC programs offer dual credit opportunities (both high school and college credit) and/or lead to industry certifications. WANIC summer semester applications are now being accepted.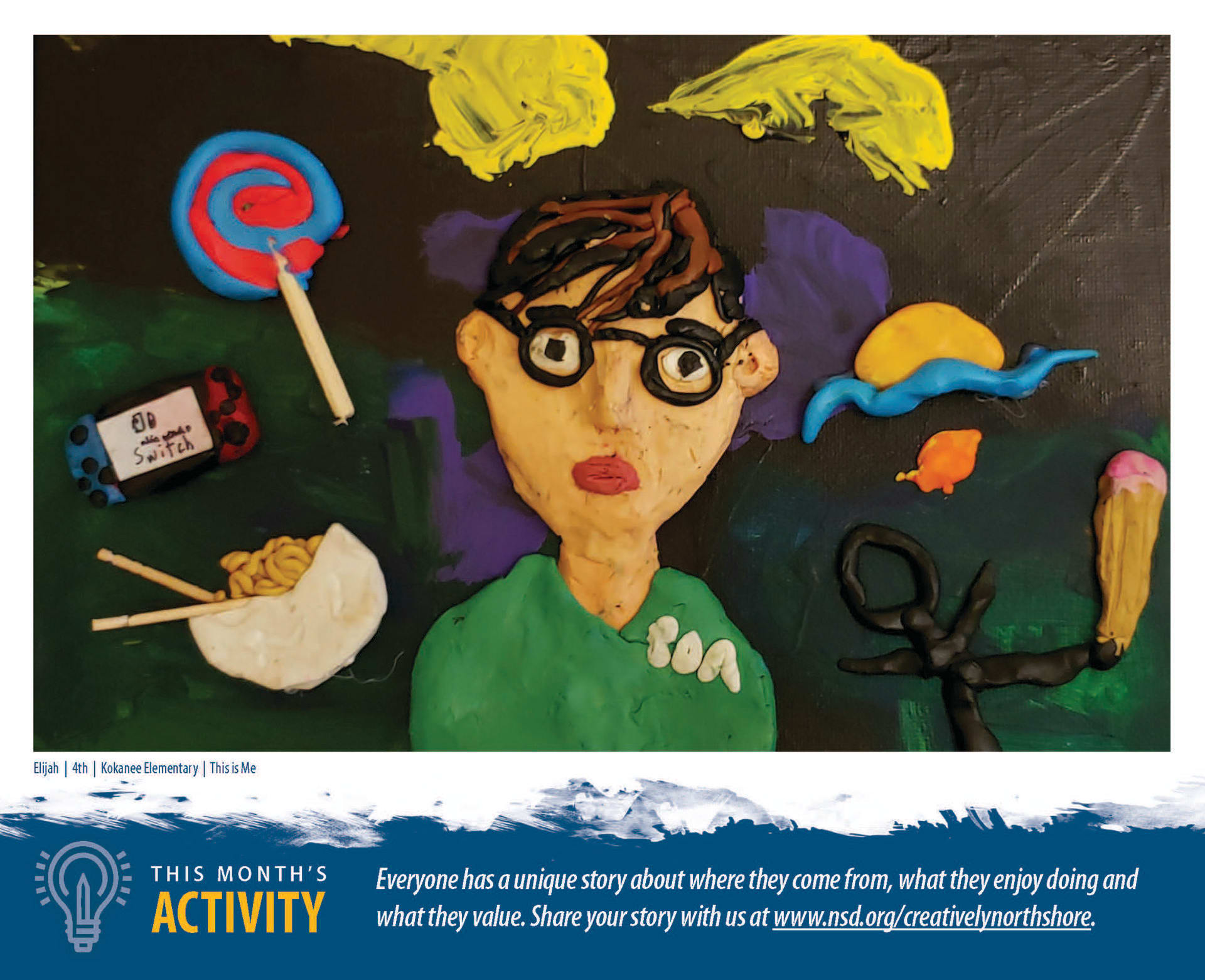 Make sure your student gets their submission in for the April Creatively Northshore calendar prompt. Submissions may be featured on the Northshore School District website, social media and other future publications. Each month the calendar has a different prompt that students are encouraged to submit one entry a month.
April's activity: Everyone has a unique story about where they come from, what they enjoy doing and what they value. Share your story with us by clicking the button below.
With temperatures warming up outside the US National Weather Service Seattle Washington put out a warning that although it might be tempting to cool off in area waters the water temperatures are still running VERY cold in the 40s and 50s. Hypothermia can occur in a matter of minutes even for experienced swimmers so please use caution.
The air is warm, but the water is cold:
Lake Washington - 52 degrees

Lake Sammamish - 57 degrees

Pacific Ocean - 50 degrees

Puget Sound - 50 degrees

Skagit River - 48 degrees
At these temperatures, hypothermia can occur in just minutes. Use extreme caution around area waterways.
Please click on the button below to access to resources on safety from the National Weather Services.
Unleash the Brilliance (UTB)
Northshore School District was one of two districts in the state, awarded with the Racial Discipline Gap grant from OSPI. We have partnered with Unleash The Brilliance (UTB) to empower youth to make positive decisions and build a positive partnership between schools and families. The collaboration between NSD and UTB is to inspire youth to value the process of learning and proactively engage in their education as we share ideas and tools that empower students to proactively engage in their future and with their community. Unleash the Brilliance (UTB) will be hosting parent and student success workshops in partnership with the Northshore School District to reduce infractions and discipline. These informational workshops will in turn help staff to become aware of these issues affecting our students. These free workshops are open to all Northshore families and will focus on:
Best practices on how to prevent suspension or expulsion

How to manage the disciplinary hearing, appeal and review procedures to find alternatives to suspension or expulsion

Share your thoughts, hopes, concerns and hear from other parents
To learn more click the button below about dates and times, click the button below.
Volunteers and Community Partner News
Volunteer Appreciation Week
During April we celebrated Volunteer Appreciation Week! We would like to take a moment to thank all of the volunteers that support our students, staff and schools year-round. Over the last year, our volunteers have pivoted along with our students and staff to support the virtual classroom, adapt elementary art docent lessons to be taught virtually, donate countless hours of their time to support our free meals program for children up to 18, and provide home delivery for critical supplies such as technology devices, books, meals and more. Do you know of amazing individual volunteers, volunteer groups or even your PTSA who you would like to give a shout-out? You can do so by clicking the link below. Also, if you or someone you know are interested in volunteering, learn more at www.nsd.org/volunteer.
Northshore Council PTSA presents with special guest National Alliance on Mental Illness(NAMI) Eastside: Returning to Populated Places: How to Calm Your Anxieties
After over a year of staying at home, it is normal to feel anxious seeing large, or even small, groups of people. This presentation, which will be given by NAMI Eastside's Executive Director, Barbie Collins Young, is designed to give attendees tips to calm these feelings.
Date: Tuesday, May 18, 2021
Time: 7:00 p.m.
Location: Online via Zoom
This event is free and open to the community including Northshore families and staff. Registration is required. After registering, you will receive a confirmation email containing information about joining the meeting.
May 10: School Board Meeting, 4 p.m.
May 24: School Board Meeting, 7 p.m.
May 28: Emergency Make Up Day, No School
May 31: Memorial Day, No School
As a reminder, the month of May recognizes Teacher Appreciation Week, School Lunch Hero Day, National School Nurse Day and Memorial Day. We also encourage you to view the Religious and Cultural Observances calendar to learn about specific days and weeks students and staff may be honoring.
Northshore School District prohibits discrimination on the basis of age, sex, marital status, genetic information, sexual orientation including gender expression or identity, race, creed, religion, color, national origin, honorably discharged veteran or military status, or the presence of any sensory, mental, or physical disability or the use of a trained dog guide or service animal by a person with a disability, unless based upon a bona fide occupational qualification, in all its employment procedures, training, programs and activities and provides equal access to the Boy Scouts and other designated youth groups. The following employee(s) have been designated to handle questions and complaints of alleged unlawful discrimination: Director of Human Resources (Title IX, ADA and Civil Rights Compliance), Director of Career and College Readiness (Section 504), 3330 Monte Villa Parkway, Bothell, WA 98021, 425-408-6000.