The latest news and updates from the Northshore School District
Hello Team Northshore,
The past week has been a full one for many of us. As we think about all the tasks before us, we pause this week to think about all those tasks we have behind us, and we draw strength from one another with our enduring knowledge that together all things are possible… For indeed, together we have persevered through what at times has felt impossible. We've got this…
On Tuesday, we had our eighth School Board SIP visit and traveled virtually to Fernwood Elementary School. In the presentation, Principal Kate Bradshaw shared the great work that staff and student Panthers are doing to create connections, "I am so appreciative of the intentional work of the Fernwood staff in carrying out our mission of being a learning community through our positive relationships with student, families, and each other. The staff at Fernwood shows up for kids each day in big and small ways to ensure each student feels valued by creating connections and celebrating differences. They take time to learn about the cultures of the students we serve as well as to learn about each child as an individual. They also get to know the specific strengths and needs of their students and work collaboratively to provide support. It's because of the collective efforts of the Fernwood staff and community that we are able to carry out our goal of ensuring that each student feels valued and a sense of belonging. I am proud and grateful for all they do in supporting our Panthers!" North Region Assistant Superintendent Obadiah Dunham shared his impression of the visit, "Principal Bradshaw and Assistant Principal Redshaw did an amazing job as they shared the individualized whole child method the Fernwood staff utilizes in serving each of their students. I appreciate the community focused approach to student education." Great job Panthers !!
Other topics covered include visits to Crystal Springs Elementary, Vaccines for Northshore Staff, State of Our Schools and more. To read Dr. Reid's full Thursday Thoughts, click the link below.
On Friday, Gov. Inslee announced an emergency proclamation that will require all students K-12 to be offered some in-person instruction. Please see Dr. Reid's message here.
District News and Updates
Did you miss the fourth annual State of Our Schools virtual event? In her annual report to the Northshore community, Superintendent Michelle Reid, Ed.D., shared the District's successes from the past year, provided exciting updates on new buildings, and share how we look forward to turning the page with reopening schools of the future. You still have an opportunity to submit your thoughts that will inform the strategic plan update.
The event also featured student musicians and spoken word performances!
Reopening Safety Protocols Handbook and Videos
The return to in-person learning will be most successful and have the best chance to be sustainable if we are all prepared and working together. We ask that you familiarize yourself and your students with the following health department protocols and CDC requirements.
Review the Safety Protocols Handbook

Watch the Welcome Back Northshore! video available in English and Spanish.
We would like to extend a big thank you to staff at Woodmoor Elementary, Ruby Bridges Elementary and Transportation for helping us create this video!
Kindergarten and Special Needs Student Permission to Release Form for Bus Riders
Families with kindergarten and special needs students who are bus riders must complete the Permission to Release form to designate who will meet their student at the bus stop. Bus drivers are only authorized to release kindergarten and special needs students at their designated stop to a parent, pre-authorized adult or older sibling. If a designated individual is not present at the stop, students will be returned to their school at the end of the route.
Apply for Free & Reduced-Price Meals for Pandemic-EBT benefits

Due to COVID-19, children who are eligible for free or reduced-price school meals will get extra food benefits. Pandemic EBT (P-EBT) is a food benefit created by Congress during the COVID pandemic in order to help replace meals that eligible students would have received if school schedules weren't disrupted by the pandemic. These benefits will be distributed on an Electronic Benefits Transfer (EBT) card, which is used like a debit card to buy groceries.

If your child is eligible for free or reduced-price school meals, they automatically qualify for the P-EBT program. It is important for families to ensure that their current mailing address is on file with their student's school, so that when the debit cards are mailed families receive them at their home. The P-EBT card is separate from and doesn't replace a food or cash EBT card.

Once a family receives their P-EBT card, they will need to hold on to the debit card. Additional benefits may be issued to the card every two months through the end of the school year for as long as the COVID-19 public health emergency continues.

Immigration status does not matter for P-EBT. Children may continue to get free meals from school and community sites and get P-EBT at the same time – they are separate programs.

Creatively Northshore Calendar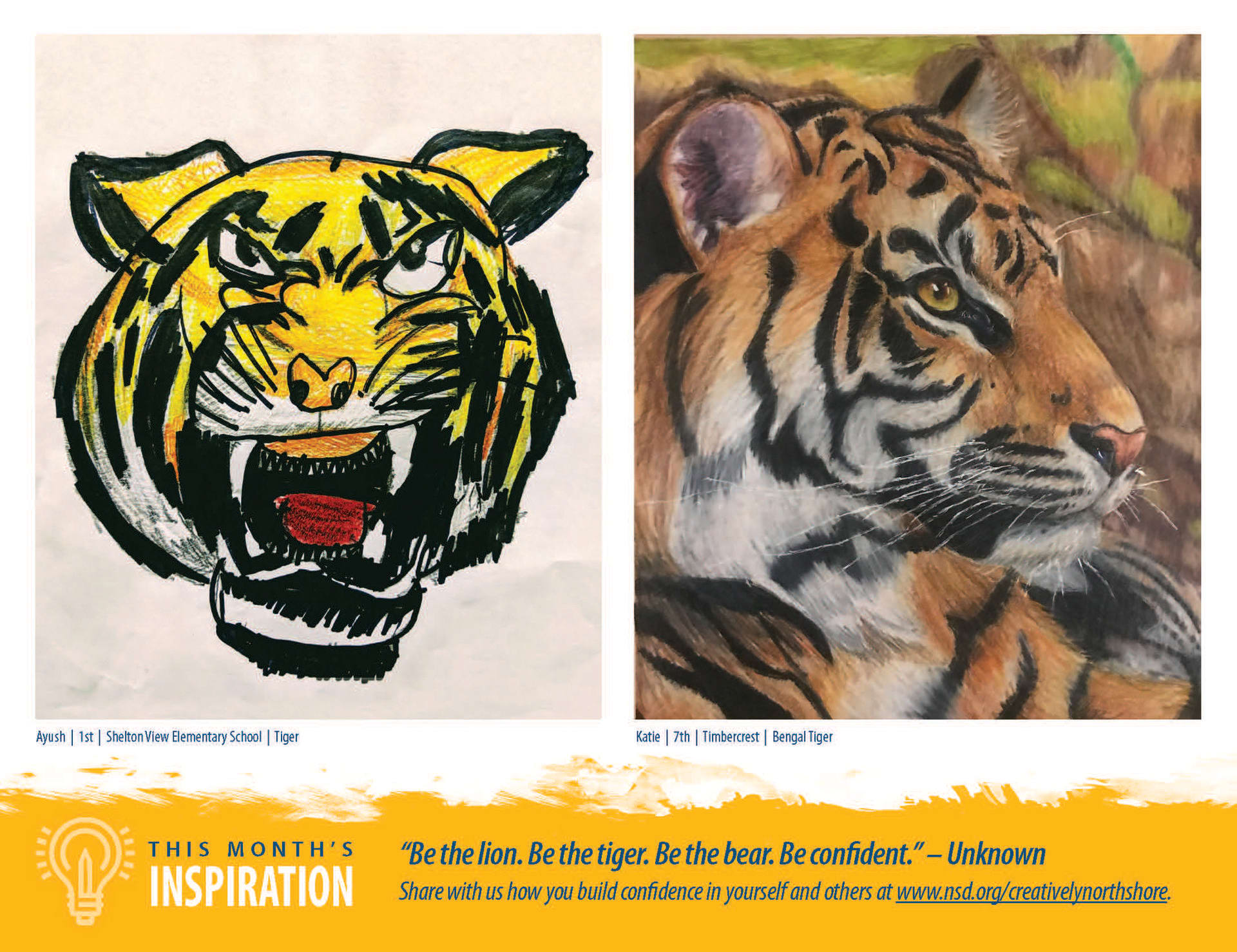 Make sure your student gets their submission in for the March Creatively Northshore calendar prompt. Submissions may be featured on the Northshore School District website, social media and other future publications. Each month the calendar has a different prompt that students are encouraged to submit one entry a month.
This month's activity:
"Be the lion. Be the tiger. Be the bear. Be confident." – Unknown
Share with us how you build confidence in yourself and others.
Community Partner and Volunteer News
Northshore Council PTSA Reflections
We are honored to share the Northshore Council PTSA's Reflections Showcase website spotlighting 229 art pieces submitted this year. The website will be accessible through the end of the month. Reflections is a National PTA arts recognition program that helps students explore their own thoughts, feelings and ideas, develop artistic literacy, increase confidence, and find a love for learning that will help them become more successful not only in school, but in life. This year, 55 pieces will advance to Washington State PTA for additional judging. Northshore Council PTSA also awarded 59 Judge's Choice Awards. Congratulations to all our Northshore student artists!
Summer Childcare in Northshore
Champions
Remember that feeling on your first day of summer vacation? Maybe you were thrilled and looking forward to a summer of possibilities. What will the first days of summer feel like for your child who has experienced a year like no other? Our trailblazing summer program is here to help your child Take Back Summer! This summer, especially, is such a great opportunity for Champions to help the students in the Northshore School District continue their learning routine, learn alongside and play with their friends, and be ready to start the 2021-2022 school year with confidence!
Northshore YMCA
Great summers start at the Y! With active days spent learning new skills and making lifelong friends, Y Day Camps offer fun camp activities to engage brains, exploration rotations to encourage kids to try new things, and plenty of physical activity and games to keep bodies moving. Registration opens March 20 at ykids.org.
For questions about enrollment, program or safety protocols, please reach out to the provider of your choice.
March 20: First day of spring
March 22: School Board Meeting, Virtual, 7 p.m.
April 12-16: Spring Break, No School
April 26: School Board Meeting, Virtual, 4 p.m.
As a reminder, the month of March recognizes National Nutrition Month, Youth Art Month and Music in Our Schools Month. We also encourage you to view the Religious and Cultural Observances calendar to learn about specific days and weeks students and staff may be honoring.
Northshore School District prohibits discrimination on the basis of age, sex, marital status, genetic information, sexual orientation including gender expression or identity, race, creed, religion, color, national origin, honorably discharged veteran or military status, or the presence of any sensory, mental, or physical disability or the use of a trained dog guide or service animal by a person with a disability, unless based upon a bona fide occupational qualification, in all its employment procedures, training, programs and activities and provides equal access to the Boy Scouts and other designated youth groups. The following employee(s) have been designated to handle questions and complaints of alleged unlawful discrimination: Director of Human Resources (Title IX, ADA and Civil Rights Compliance), Director of Career and College Readiness (Section 504), 3330 Monte Villa Parkway, Bothell, WA 98021, 425-408-6000.