Welcome to the first edition of the Staff Newsletter!
The purpose of this staff newsletter is to create a consistent location and system for distributing information to staff, as well as to build community across all departments within the Northshore School District. You will receive the staff newsletter each month. The content will vary in each edition depending on what information each department wants to highlight. Additionally, in each edition there will be a link to a hidden form that allows you to share your voice and enters you into a prize drawing generously supported by the Northshore Schools Foundation. There will also be opportunities to submit videos and photos to be featured in upcoming staff newsletters. Thank you for reading and participating!
In this Edition
Staff Reflections

Accelerated Models and Programs

Capital Projects

Communications

Curriculum, Instruction and Assessment

Instructional Technology

Technology

Northshore Learns 3.0

Racial and Educational Justice

Special Education

It's a Good Thing!
Important Reminders
Important Dates
Sept 23: Early Release Wednesday
Sept 28: School Board Meeting, 7:00 p.m.
Accelerated Models and Programs
English Learners
New Interpreter/Translation Agency information documents are available for the 2020-21 School Year. If you have questions, please contact Elizabeth Meza, Asstistant Director of Accelerated Models and Programs, emeza@nsd.org,
425-408-7684 or Heidi Morse, Instructional Support Specialist, hmorse@nsd.org.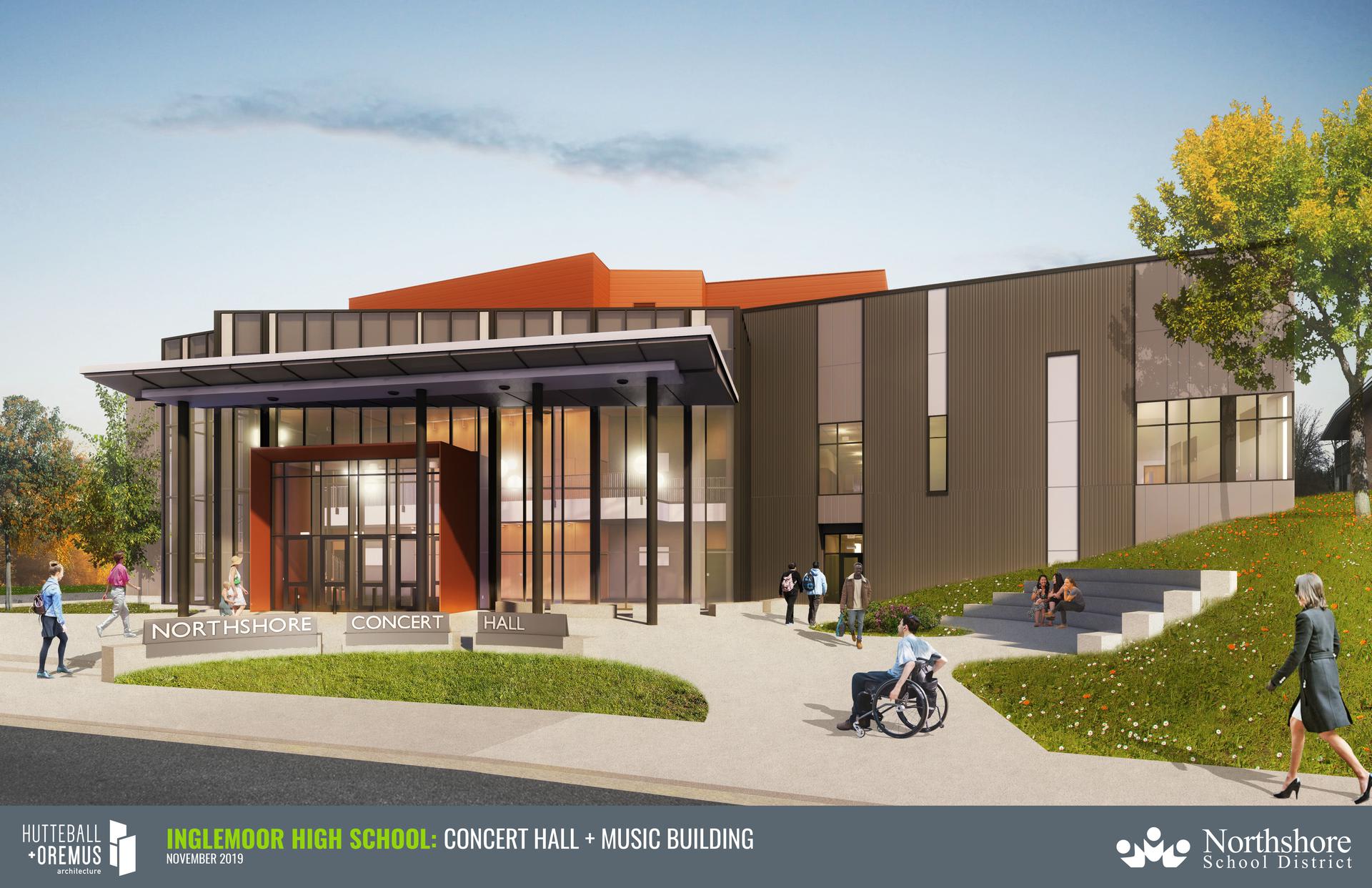 Northshore Concert Hall at Inglemoor
The team received the land use permit and fencing is beginning to be placed around the project.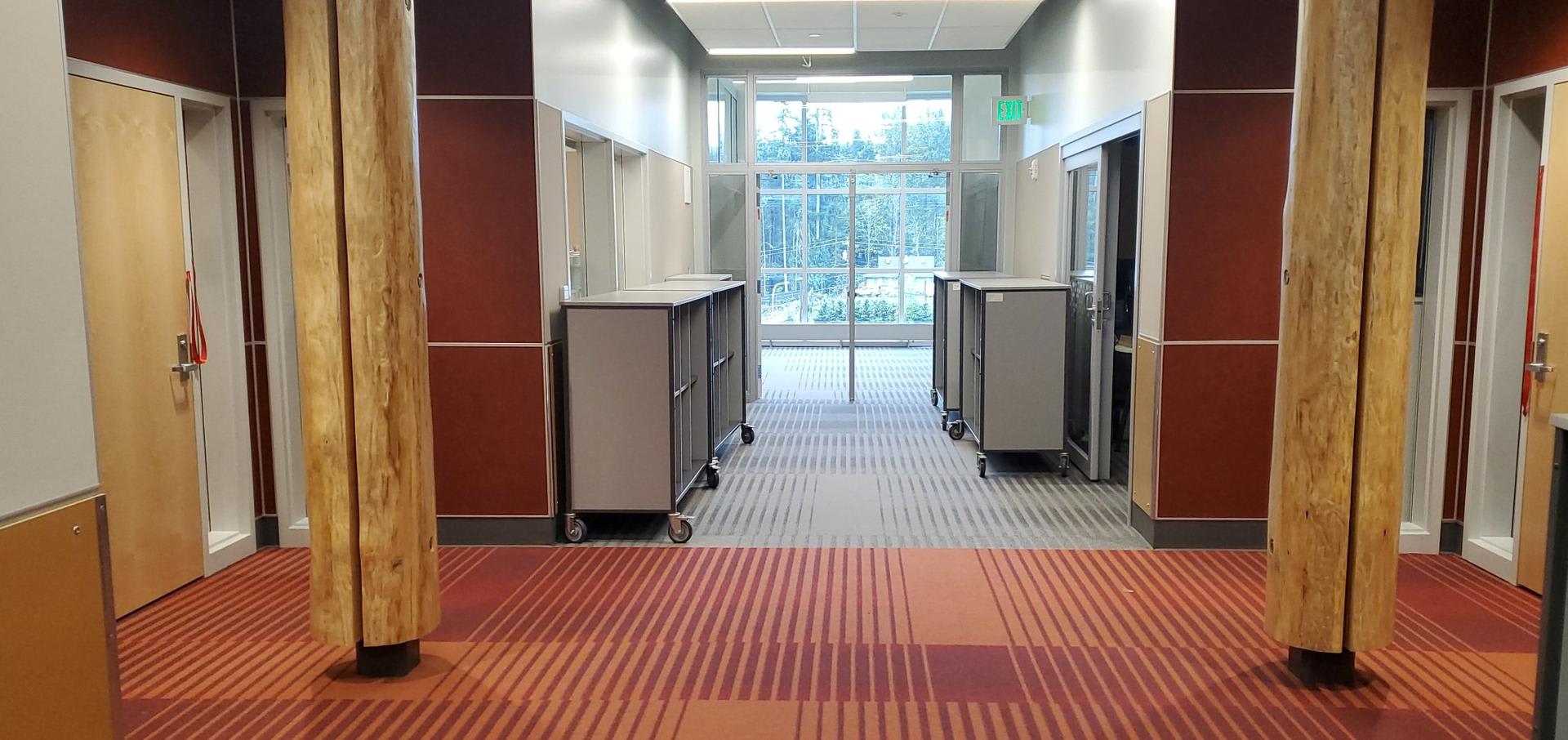 Ruby Bridges Elementary
The project is awaiting a certificate of occupancy, which is expected in September.
United States Census Deadline: September 30
As a reminder, the census is underway. The last day to complete your census questionnaire is Sept. 30. You can respond online, by phone or via mail. The U.S. Census Bureau is collecting information from every household through completion of a simple questionnaire about who lives at your address on April 1, 2020. Additionally, representatives from the U.S. Census Bureau are conducting follow up for those households who haven't responded yet. This outreach will happen through the end of the month. If a representative comes to your home you can expect the following: Census workers, who are hired from the local community, will visit non-responding households and interview residents to collect census information. All census workers speak English, and many are bilingual. If a census worker does not speak a household's preferred language, they will have materials to help identify the appropriate language and assist the person to answer the census. If no one is home during the visit, the census worker will leave a notice on the door with information about how to respond online, by phone or by mail. Please know that federal law keeps those responses safe and secure. Census workers will have a valid government ID with their photograph, a U.S. Department of Commerce watermark and an expiration date on the badge. They will also have a census bag and an iPad or mobile phone with them. Anyone wishing to confirm a census worker's identity can call the Los Angeles Regional Census Office at 213-314-6500.
The Northshore School District spans 60 square miles across three cities and two counties. The census can shape many different aspects of your community - health clinics, fire departments, schools, and even roads and highways. Census results help determine how billions of dollars in federal funding flow into states and communities each year. The results determine how many seats in Congress each state gets. It's mandated by the U.S. Constitution in Article 1, Section 2: The U.S. has counted its population every 10 years since 1790.
Curriculum, Instruction & Assessment

i-Ready is being administered remotely during distance learning so you can receive needed student data. Here are some key updates:
Training for Staff – Trainings will be offered over the next few weeks. The trainings are recorded and posted on Northshore Learns 3.0 for viewing in case the synchronous times did not work for staff. The focus of the trainings are administration of the diagnostic at home, new features in i-Ready and supporting online instruction. Staff can sign up in Performance Matters.

Fall Diagnostic Window – The fall diagnostic window is from Sept. 14 - Oct. 9. It can be taken over multiple days, but will expire 21-days after starting.

Administering the Diagnostic – Diagnostics can either be proctored by the teacher or by the families. Schools and teachers can decide which option to choose. Information on both options is included in the i-Ready training.

Online Instruction – Online instruction will be available to students after they complete a diagnostic subject (Kindergarten see below). Students spend up to 90-minutes per subject per week.

Kindergarten Online Instruction – Kindergarten students will be able to access the online instruction without taking the diagnostic first, since i-Ready diagnostics are not required until January for this grade. Lessons will start at the beginning of the lesson paths and will be a review for some students. Once the diagnostic is administered, lessons will progress to the student's identified skill levels. Teachers can also adjust the lesson path if necessary.

Clever Login – i-Ready access for students, teachers, and paraeducators will now be done through Clever. Anyone who has all-school access (principals, counselors, and other identified staff) will still need to log in the traditional way.
If you have questions, please contact Derek Tucci, Assistant Director of Assessment, dtucci@nsd.org.

OSPI is requiring that WaKIDS still be administered in a distance learning environment. We had a great training for staff on Wednesday, Sept. 2. Here are some important notes:
Training for Staff: The training from Sept. 2 is now posted, along with other resources, on the Northshore Learns 3.0 Schoology page under Resources -> Assessment Resources -> WaKIDS Training Resources.

WaKIDS Window Extension: OPSI has extended the end of the WaKIDS window to Friday, Nov. 13.
If you have questions, please contact Derek Tucci, Assistant Director of Assessment, dtucci@nsd.org.
Professional Development
It's not too late to register for the Staff Resilience Online Book Study. To help relieve any stress this new year brings, we are opening up our registration to any new staff who are interested:
Who: All interested staff members
What: Staff Resilience Online Book Study (29 clock hours available)
When: Began June 2020 and continuing through May 2021 (see syllabus)
How: Register, to begin with September's work, in Performance Matters Onward Book Study Course #34101 by Sept. 19
We would like to engage interested staff in a book study, Onward: Cultivating Emotional Resilience in Educators (Aguilar, 2018), that focuses on teacher resiliency (self-care) and social-emotional learning (SEL) skills. Social and emotional learning is the process through which students and adults understand and manage emotions, set and achieve positive goals, feel and show empathy for others, establish and maintain positive relationships, and make responsible decisions. Staffs' social-emotional competency positively influences teachers' self-care through building strong identities, self-efficacy, and emotional intelligence.
This book study will provide space and time for staff to reflect on their own self-care routines, social and emotional competencies, identities, and biases. Participants will engage in practices that affirm and cultivate their cultures, values, and identities. They will have the opportunity to experience and engage in SEL skills and translate and apply them to the classroom.
This book study began in June 2020 and will run through May 2021. Each month we will focus on one chapter in Onward: Cultivating Emotional Resilience in Educators (Aguilar, 2018) and connections to SEL standards. This includes each month, the following:
Purchase Onward: Cultivating Emotional Resilience in Educators (Aguilar, 2018) on your own or using approved building PD funds.

Participate in a one-hour Zoom discussion meeting each month (see syllabus for dates)

Complete assigned activities for the month in Google Classroom (90 minutes).
For staff requiring clock hours (for example, a certificated teacher needing clock hours for certificate renewal), you are able to earn up to 29 clock hours. If you are not able to complete a month's activities or webinar meeting, you can still participate in the study earning the credits that you can complete (for example, I attend zoom meeting for 1 hour, but have not completed assignment = I earn 1 clock hour for that month). You will have through the end of each month to complete all assignments. Prior to completing the activities assigned for each month, please read the corresponding chapter in Onward: Cultivating Emotional Resilience in Educators (2018).
Technology Support
If you need technology support, there are a variety of ways you can access help. Consider the following supports:
Call Your STS - They are a school's first line of support

Ask Your Schoology Ambassadors for Help - They're a source of support too

Check the Northshore Learns 3.0 Schoology Group - Resources are posted daily

Use Google Hangouts Chat to connect with others

Contact Schoology Support from within Schoology

Book an Appointment with an Instructional Technology Coordinator

Attend Office Hours

with a Member of the Northshore Learns Team

Contact the Help D

esk

Visit Technology Knowledge Base: A tool that answers many common technical issues
The list above is a brief description of the ways you can get support. Please look for additional, more detailed, information about each action in the Northshore Learns 3.0 Announcements & Updates document.
Additional information has also been shared by the Instructional Technology Department via email:

Schoology Group: Northshore Learns 3.0
The Schoology Group "Northshore Learns 3.0" is a valuable source for information related to curriculum and technology. If you haven't joined the group, use the group code 3MD9-R7RK-DHQK7 to join today. The Northshore Learns 3.0 team and Instructional Technology continue to post resources there to support you in remote learning.
Congratulations on the start of the school year! This quote captures the essence of our journey together this year. "In effective structured conversations, the mentor is the master of momentum and the beginning teacher is the keeper of the content." (Lipton & Wellman, 2018)
All of the Induction Mentors are looking forward to working together with you this year! The attached document 'First Days of School' from OSPI assists with navigating the first three weeks of school and beyond (see page 2 for online learning).
Online Teaching Best Practices Tips and Strategies
Use consistent subject line conventions when communicating with students and their families. Examples:

Grade/Class Period, Class Name (Secondary), Teacher and Subject Line

3rd Grade, Mrs. Bjornstad - Welcome to Class!

First Period, US History, Mrs. Bernicchi - Welcome to Class

As you work to engage students in your class remember to include both choice and voice in activities.

Are there choices in the topics they can complete?

Are there different ways student can complete an activity, such as submitting a video, audio recording, visual representation, song or more?

Relationship building is the foundation of great teaching and is especially important in an online environment. Key strategies: Learn your students' names, find out their interests and be a positive presence.
Reminder: Professional Learning Survey
To provide relevant professional learning opportunities, please remember to provide feedback around your specific needs by completing the survey linked below. This is the same Professional Learning Survey that is posted on the Schoology Group: Northshore Learns 3.0.
Racial and Educational Justice
Training and Resources
The Racial and Educational Justice Department has compiled a website of various trainings and resources about topics such as how to talk to students about race, how to deepen your own understanding of race and more. You can view them on our website at linked below.
Thank You
First, a huge thank you to all special educators who work so hard for our students every day and a special thank you to our educational support associates (ESA) who have volunteered to conduct in person evaluations!
Reminders
As a reminder, please be sure you have viewed all compliance modules related to your position. Also, all overdue evaluations and Instructional Educations Plans (IEPs) must be completed by October 15, 2020. Please let your regional Special Education Director know if you need help.
"Thank you for the huge amount of work, dedication and care that has gone into this school year so far. It shows and is appreciated. I called tech support today and both of my issues were resolved quickly and with patience and a positive attitude. Between the work the district has done as well as the staff and
teachers at the school we have had an awesome first two days of school. We are very optimistic about this school year and so happy to be back, even if it is remotely."
- Ericka Coleman, Parent
"Some heartwarming moments from virtually teaching from day 1:
Excited waves and smiles right away.

Students who don't always like talking able to use chat or gestures without feeling pressured to speak

Getting an email from a student who drew a picture of she and I. (I was worried I wouldn't get those!)

When I told my students that I needed to help my fifth grader who appeared frustrated in his technology and they all nodded back sagely as if they've seen some stuff in their lifetime.

Seeing them fall over with laughter at my wacky antics, even if I can't hear them.

My own children joining my class for brain breaks.




Having space to wiggle MORE while we learn, since we all have our own personal space.

The patience and kindness of first grade parents.

Realizing you can still immediately love and connect with the sweetest first grade personalities even through a screen.

Was it a perfect first day? No. They usually aren't, there's always hiccups. But was it a first day that reminded me of why I love this job? Yup. :)"
- Stephanie Horman, First Grade Teacher, Westhill Elementary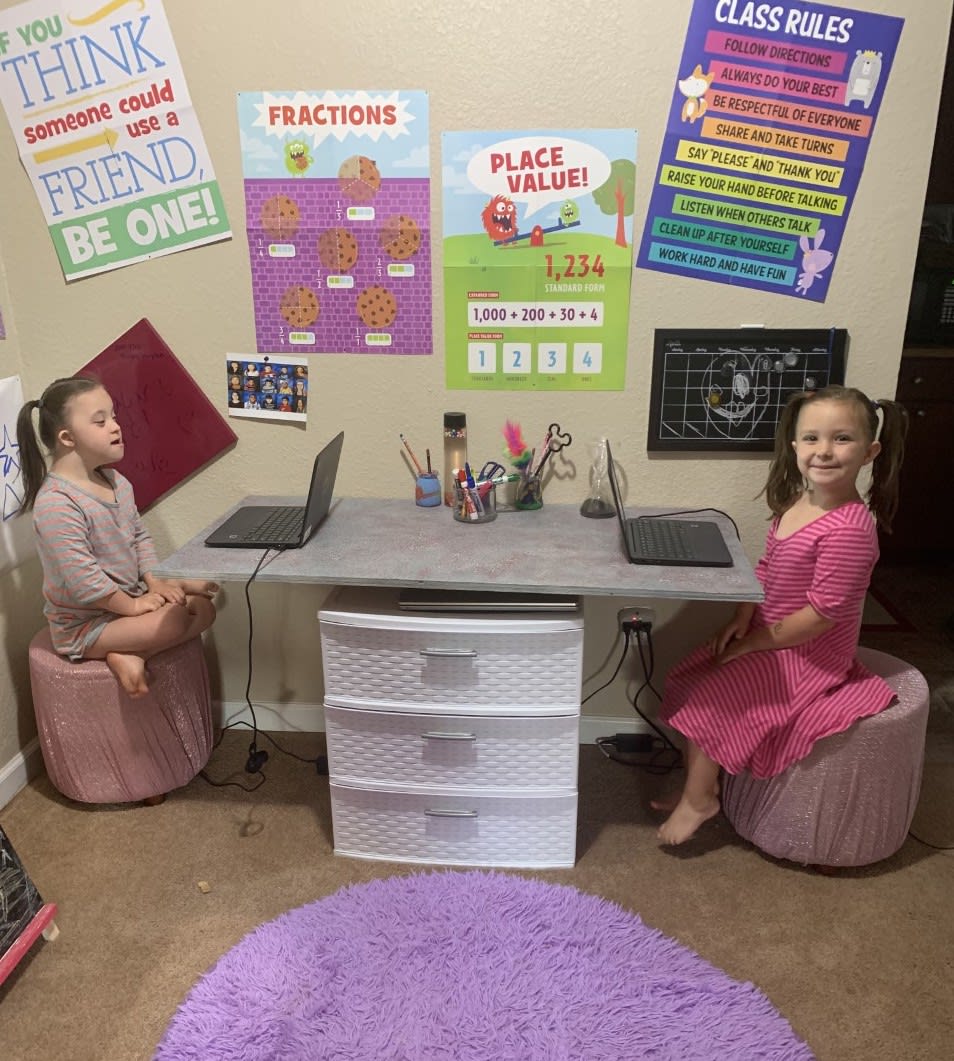 Students from Woodmoor Elementary in their new learning space.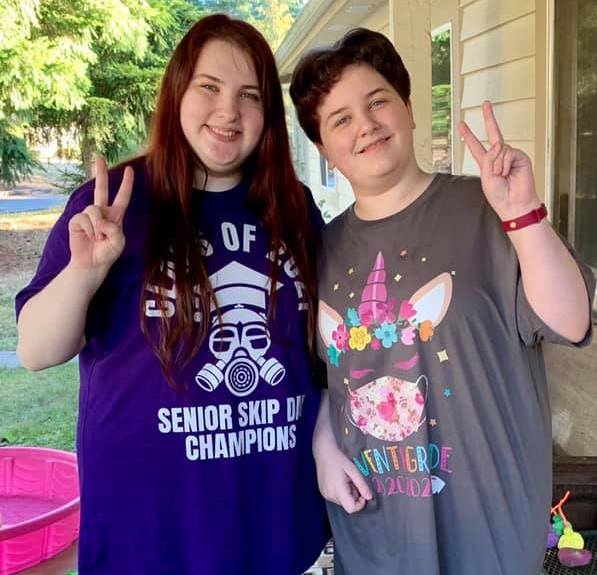 Students from North Creek High School and Skyview Middle School commemorating their first day of school.
Contributors: Megan Bernicchi, Katie Bjornstad, Linda Cowan, Adra Davy, Ranna Harb, Sarah Lawrence, Elizabeth Meza, Shelby Reynolds, Henry Simon, Derek Tucci, Christina Wilner and Lisa Youngblood Hall